If you want to replace missing or damaged teeth, dentures could be an option. Read below or schedule a visit to learn more about how dentures can help you get your radiant smile back.
Request An Appointment

Dentures are removable dental appliances that serve as replacements for missing teeth and the surrounding gum tissue. Modern dentures are typically made with acrylic resin for the gums and teeth over an underlying structural base, which helps the dentures retain their proper shape.
Many people lose their teeth as they age due to gum disease, accidents, issues relating to decay and cavities, or a lack of proper dental care. Our team can help. We can get your smile back on track with quality, comfortable partial and complete dentures in Greenville, SC.
Common Reasons for Dentures
Dentures are commonplace, especially with older patients. Some reasons why you may need dentures are:
Loss of all or several teeth in a dental arch.
Preventing other teeth from moving due to lost teeth.
Enhancing the patient's smile.
Improving functions such as chewing, eating, digestion and speech.
If you think you may need dentures, contact your trusted dentist office in Greenville, SC for a consultation. The caring and professional staff at Carolina Oaks Dental Care will take the time to address any questions or concerns you may have, as well as work with your schedule to get you a convenient appointment.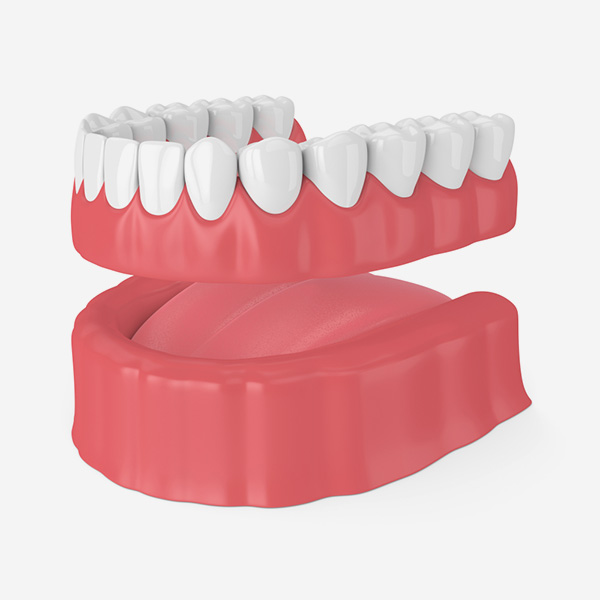 What Is the Process of Getting Dentures?
Getting dentures can consist of multiple appointments over the span of several weeks. This is because taking the right measurements, creating accurate impressions of your teeth, mouth, and jaw, and creating a custom denture to fit your mouth all take time and care.
Several of the visits will be "try-in" appointments, where your Greenville, SC dentist will work to ensure that your dentures have the proper shape, fit, and color so that they blend seamlessly in with your mouth.
Your final appointment will involve adjusting the denture and making sure that the final version of your complete denture is as comfortable as possible.
What Can You Expect After Getting Dentures?
Many patients experience increased saliva flow, soreness, and occasionally some difficulty eating and speaking normally as their muscles become accustomed to the new dentures. However, this is normal, and if you follow the recommended cleaning and care guidelines provided by your dentist, then you should be back to normal in no time at all.